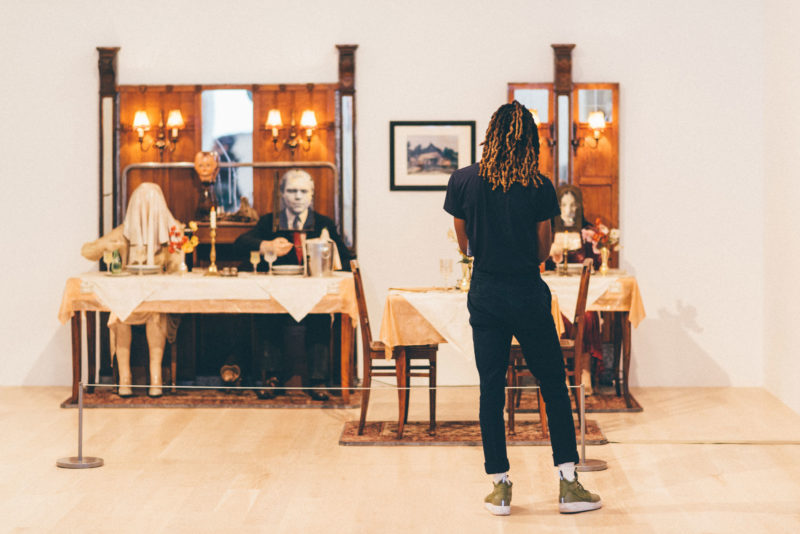 Internship Program
Spring 2018 Application
ICA Miami internships offer participants an opportunity to learn more about contemporary art and the scope of museum work during an exciting and critical moment of growth for the institution. Qualified candidates will experience a comprehensive overview of museum operations with concentrations on one of the following areas: educational programs, marketing campaigns, special events, or curatorial research. Interns will work with department staff to design in dependent projects, which provide exposure to various museum practices within the intern's selected concentration. ICA Miami will also provide interns with opportunities to meet with other ICA Miami staff, attend public programs and participate in coordinated field trips.
Selected interns will participate in a 12-week program, approximately as long as one academic semester, beginning January 22 through April 13, 2018 for a maximum of 14 hours per week. Interns will receive a stipend of $500 for the entire program. Selected interns will also receive a parking pass for the tenure of the program.
Curatorial
Open to graduate or post-graduate candidates only.
ICA Miami offers a comprehensive research-based internship meant to strengthen interns writing skills and broaden their knowledge of contemporary art. The internship will focus on building scholarship on the museum's permanent collection through their writing. The most significant public collection in the region, ICA Miami's permanent collection features works from the post-war period to contemporary, and is rapidly growing as the museum enters the next stage of its development.Through writing a concise description of each work and its provenance that will be distributed on the museum's website, the intern will help to expand scholarship on the collection.
This internship offers the opportunity to apply and improve critical writing through profound research. This includes research of: artists, their work and significance in the field of contemporary art; works of the exhibition; biography, major solo and group exhibitions, collections and seminal catalogues. Participants will gain knowledge about major artists and art history. Intern will work with ICA Miami's Curatorial department on written pieces, and curators will offer editing experience to augment participants' writing skills and profound knowledge of contemporary art.
Social Media Marketing
Open to undergraduate, graduate, and post-graduate candidates.
The Social Media Marketing Intern will assist the museum's External Affairs department with strengthening ICA's brand presence across multiple digital channels, including video, newsletter, and various social media platforms, including Facebook, Instagram, and Twitter. Candidates should demonstrate: a strong understanding of social media, contemporary visual culture, emerging technologies and their creative application; the ability to engage through original content and copy; and possess a meticulous attention to detail whether writing, researching or reporting. Preference will be given to candidates with graphic design experience. The intern will also support staff with daily administrative and research operations. This internship is ideal for students from the following majors and related disciplines: Communications, Marketing, Advertising, Public Relations, Art and Art History, Museum Studies, and Graphic Design.
Education
Open to undergraduate, graduate, and post-graduate candidates.
The Education intern will be working closely with ICA Miami Education staff to provide and develop inquiry-based curriculum for our Immersive Tour program. Internship duties include providing tours to our public audiences, attending plan meetings, developing projects and activities that tie into exhibition themes, working within department's budget, ordering supplies, marketing events and supervising volunteers. Due to our school tour programming, this internship will require the candidate to work morning hours from 9 am to 12 pm. This internship is appropriate for undergraduate and graduate students from the following majors and related disciplines: Art and Art History, Education, and Museum Studies.
Museum Development
Open to undergraduate, graduate, and post-graduate candidates.
Exhibitions and Collections Management
Open to undergraduate, graduate, and post-graduate candidates.