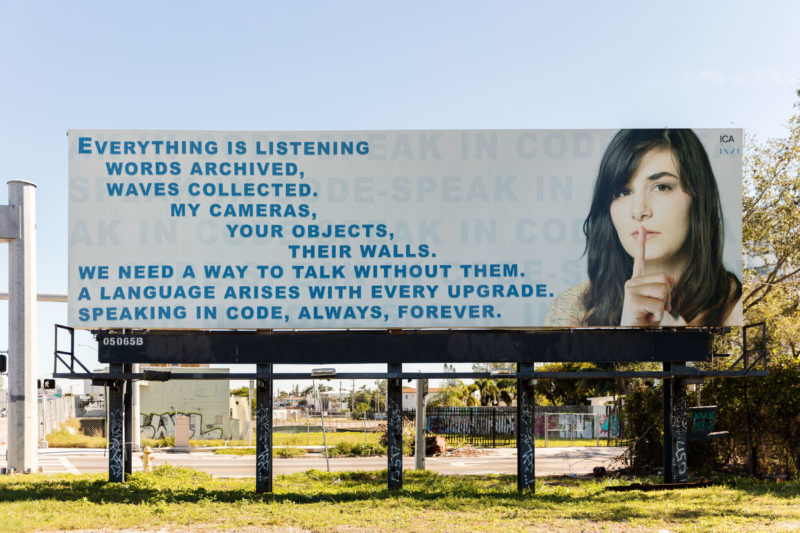 Jillian Mayer
On view Oct 17 – Dec 31, 2017
Location: Southeast corner of NE 79th St and 4th Ct, Miami, FL 33138.
Highlighting its ongoing role as a platform for leading Miami-based artists, ICA Miami commissioned a large-scale public artwork by Jillian Mayer. The museum's inaugural billboard presentation in 2016 featured a mural of Thomas Bayrle's Lufthansa (1982).
Jillian Mayer (b. Miami; lives and works in Miami) is an artist and filmmaker. Her work explores how technology affects our identities, lives and experiences. Through videos, online experiences, photography, telephone numbers, performance, sculpture, painting and installation, her projects investigate the tension between physical and digital iterations of identity and existence.
Her video works and performances have premiered at galleries and museums internationally, including the Museum of Modern Art, New York; The Museum of Contemporary Art, North Miami; Brooklyn Art Museum; and Bass Museum of Art, Miami Beach. Her work has shown at film festivals such as Sundance, SXSW, and the New York Film Festival. She was recently featured in Art Papers, ArtNews and Artforum discussing identity, Internet and her artistic practices and influences. In 2010, her video Scenic Jogging was one of the 25 selections for the Guggenheim's Youtube Play: A Biennial of Creative Video and was exhibited at Solomon R. Guggenheim Museum, New York; Peggy Guggenheim Collection, Venice, Italy; Guggenheim Museum, Bilbao, Spain; and Deutsche Guggenheim, Berlin, Germany.
Mayer is a recent recipient of the prestigious Creative Capital Fellowship for 2015, the South Florida Cultural Consortium's Visual/Media Artists Fellowship 2011 and 2014, Cintas Foundation Fellowship 2012, and was named one of the "25 New Faces of Independent Film" by Filmmaker Magazine. She is also a fellow of the Sundance New Frontiers Lab Program for 2014, the Elsewhere Residency as a NEA Southern Constellation Fellow and the Zentrum Paul Klee Fellowship in Bern, Switzerland for 2013.
Installation Views