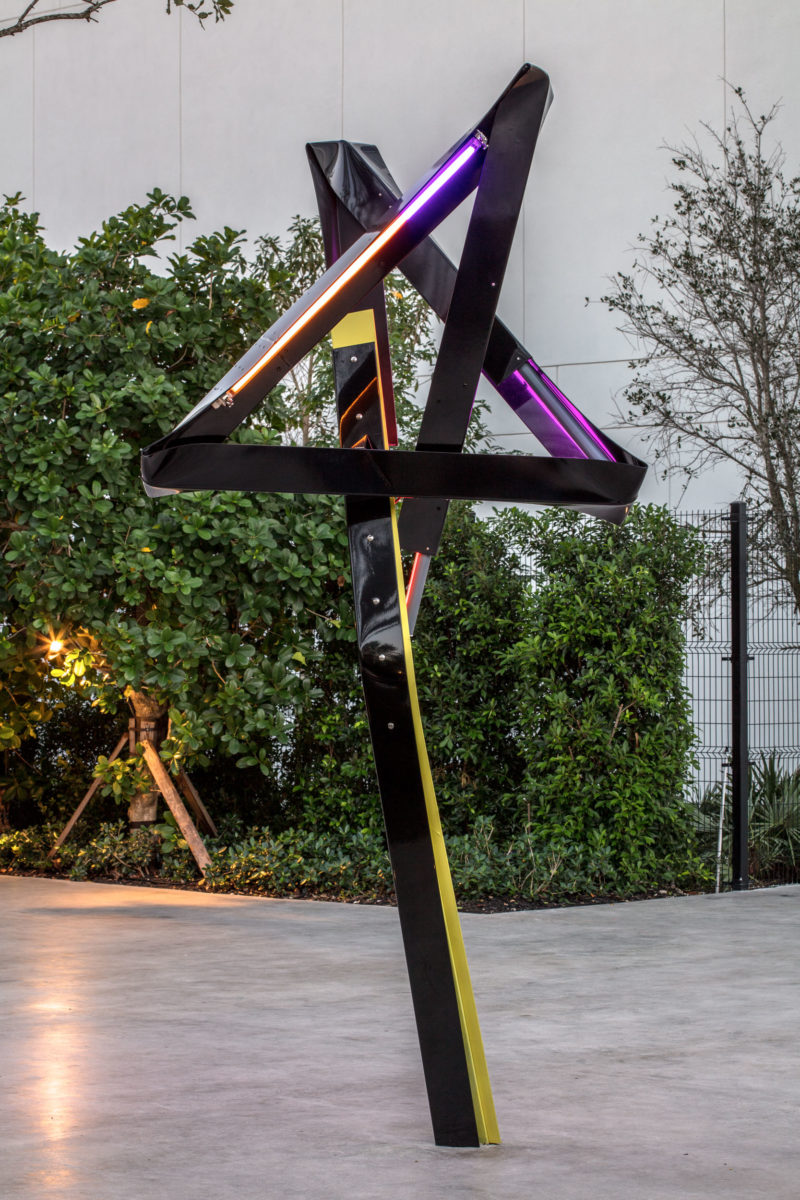 Mark Handforth
On view Dec 1, 2017 – Nov 1, 2020
Dr Pepper (2017) by Mark Handforth marks a major public commission for this leading Miami-based artist. Alluding to a lantern form, the totemic standing star shape describes a continuous, inevitable, and even chaotic movement through space—a process writ large in crumpled aluminum. The composition expresses an implicit relationship between the looseness of the gesture and the physicality of the work—the grounded, weighted reality of objecthood, which is a common theme in Handforth's practice. The color palette, which borrows from a chromate yellow aircraft primer, is set against deep blacks that reflect a peculiar duality, as does the webbing of the leg, and the structural plates crisscrossing the languid form.
In his sculptural installations, Handforth often transplants familiar objects found in civic infrastructure— such as municipal signs, motor scooters, hydrants, street lamps, wheels, and traffic cones—into unfamiliar surroundings and transforms them, by reworking or deforming their structures and configurations, in order to reveal something new about the ways in which these objects function in our everyday lives. He revels in the skewed perspectives and unintended consequences that result from cultural exchange and displacement.
Handforth (b. 1969, Hong Kong) was raised in London and has been based in Miami since 1992. His work has appeared in exhibitions worldwide, including solo presentations and outdoor public sculptures at the Museo d'Arte Contemporanea, Villa Croce, Genova, Italy (2016); Museum of Contemporary Art Chicago (2011); Dallas Museum of Art (2007); Kunsthaus Zürich (2005); and the Hammer Museum, Los Angeles (2002).
Installation View